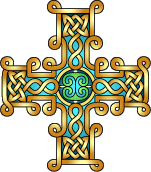 "Beloved, let us love one another. For love is of God and everyone who loves is born of
God and knows God. He that loves not, knows not God, for God is love." I John 4:7-8



Welcome to a peaceful little corner of my site! What you will NOT find here is hatred, prejudice or condemnation as my Deity is one of love and compassion. I leave the judgement of souls in His most capable hands and try to live my life in quiet witness to the transforming power of the Gospel. I enjoy intelligent, reasoned discussions of world religions and questions of faith. After all, my Savior died to take away our sins, not our minds. :)

I am Episcopalian, which means I'm a member of the Episcopal Church in the U.S.A., and a part of the worldwide Anglican Communion. As an open-minded moderate, I find most of the histrionics of the more extreme factions in our Church, both left and right, to be disturbing and, imho, not very Christ-like.

Being of Irish, Scottish and Welsh descent, I have found my own spirituality to have been greatly enriched by explorations of Celtic Christianity and early Church history.

As a member of the Third Order, Society of St. Francis, Anglican, I am interested in a Franciscan view of spirituality and service to humanity as bringers of peace, tolerance, understanding and God's love to a hurting world.

I am a Physics teacher at a private all girls independent Catholic high school. Great is the joy that can be found in exploring God's magnificent creation and observing the complex structure and exquisite craftsmanship of His handiwork!

I am female, which leads me to explore both the historic contributions of women to our faith, from Julian of Norwich to Clare of Assisi to Bridget of Kildare, as well as the feminine imagery inherent in certain characterizations of the Holy Spirit.

Graphics from